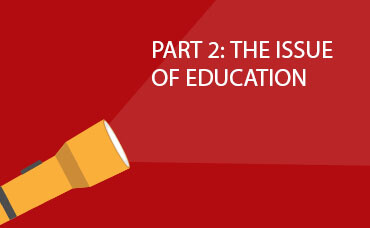 Blog Post: The issue of education
Continuing his blog series, Rory Murphy, Ensign Retirement Plan Chair of Trustees, gives us his take on the world of pensions. An emerging figure in the pensions world, Rory is not afraid to speak out and challenge convention in order to help shape a more collaborative and ultimately more successful pensions industry.
Part 2: The issue of education
Education is the passport to the future, for
tomorrow belongs to those who prepare for it today.
Malcolm X.
It's widely acknowledged that training and education is an ongoing requirement for anyone working in pensions. I will come on to some of the training developments facing pension scheme managers and trustees shortly, but let me start with the area I think we as an industry pay far too little attention to – member education.
Traditionally, we have perhaps paid lip service to educating our members as to the importance of their pension and saving for their retirement. I know it's a struggle to get anyone under 40 to engage in their pension provision – especially when they see it might be 20 or more years from being relevant to them. And we are all to blame – legislators, employers, trade unions and schemes.
Since its launch auto-enrolment has seen some eight million people enrol but at such low contributions that I fear they have been lulled into a false sense of security. There is no way that auto-enrolment is going to provide for comfortable, secure retirements at current or proposed levels of contribution.
So we all need to raise our game with regards to informing employees at the beginning of their careers and then continually up to retirement.
But even that, I fear, is not enough.
Remember the wise words of Mr Banks, of the Fidelity Fiduciary Bank in the Mary Poppins film? Let me remind you:
If you invest your tuppence wisely in the bank
Safe and sound
Soon that tuppence safely invested in the bank
Will compound
It was a wildly popular film that sang about savings and I think we have missed a trick here. I am making it one of my missions to better educate our young people – beginning at primary school – on the importance of saving as a life skill. Education, not five years or five months before someone retires, but 50 years before they do.
So, as well as the short and medium term need to help our employees save for retirement, we need to take a wider, generational approach. If a child aged five or six now understood the importance of saving and that was part of their life skills we might – might – begin to see substantial changes in savings patterns in twenty to thirty years' time.
The future of saving is critical to us, not only in terms of happy and content retirements, the levels of tax to be paid, and the cost of the NHS and Social Care, but also in creating social cohesion.
So what about training and education for those of us managing pension schemes? Both pension scheme managers and trustees need to have the required training and education to allow them to fulfil their role. However, refinement is required in terms of what topics to train and educate trustees in and (a thorny question) whether such training should be voluntary, as now, or compulsory.
I favour the voluntary option, within a regulatory framework that is delivered by each scheme according to its need and requirements at any given time. A compulsory regime would inevitably lead to a cadre of professional trustees, all trained the same way, all schooled in the Regulators Book of Solutions, all fitting nicely with one vision of the world. 1984 wouldn't have a patch on it.
By following this path we are in danger of confusing knowledge with wisdom. Let me explain. Knowledge is knowing that a tomato is a fruit….wisdom is knowing not to put it in a fruit salad.
Rory Murphy
Chair, Ensign Retirement Plan.
Next time, Rory looks at the role of advisers.
This extract is adapted from a speech Rory delivered to a group of trustees and pension managers, hosted by Baker McKenzie at the House of Commons, on 21 September 2017.
Share this post