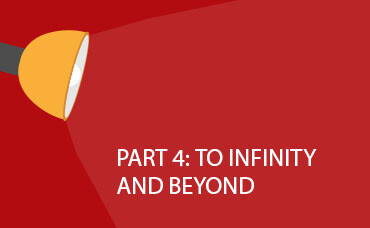 Blog Post: To infinity and beyond
In this, the last in this series of blog posts 'Thoughts from the Chair' Rory Murphy, Ensign Retirement Plan Chair of Trustees, ponders what adult nappies and robots have got to do with the future of pensions.
Part 4: To infinity and beyond
I do think sometimes that we are quite narrowly focussed in the pensions world – our LDIs, Longevity Swaps, Section 75 debts – and the language we use can be quite negative. Calling something a 'Default Fund' doesn't really inspire confidence does it? So maybe we do not spend as much time as perhaps we should on the wider world around us.
We are all aware of the dazzling speed with which our world is changing and the impact it will have on our everyday lives. But can I suggest that perhaps we do not apply the impact and consequences of these changes with enough emphasis to pensions and our ageing workforce.
We know that there is a long tail in the liabilities of pension schemes. As in the case of Irene Triplett who certainly in May of this year was receiving a veteran's pension earned by her father during the American Civil War – which ended 150 years ago.
And of course we are getting older. It is predicted that the first person to live to 150 has already been born. In Japan over 25% of the population is over 65 and by 2050 this figure will rise to 40%. They sell more adult nappies than baby ones and they are slowing down the speed of escalators to help stop older people having accidents.
All this means our savings and pensions have to work harder, for longer and a retirement age may become a thing of the past. Imagine that for your business planning.
Meanwhile, technology advances move ever quicker. I heard a speaker last week estimate that, given previous growth rates, computing will be 1 million times more powerful than today.
Robotics are the coming trend which will have a massive impact on the world of work. A McKinsey report has recently estimated that 30% of tasks and 60% of occupations could be computerised and the Bank of England estimate 15 million jobs might be taken over by robots. In context there is a 97% chance that paralegal and legal assistant jobs could be automated. Jobs with a less than 1% chance of being automated include, apparently, the clergy. And machines are already doing things that we thought only humans could do, like composing music.
This advance could see the end of the concept of working for pay. If robots are doing the work, the profits are still being made and we might all be on the Global Living Wage. Then where does that leave savings and pensions?
In the pensions world we face existential challenges. These are short, medium and long term but I am not convinced that as an industry we have got to grips with them. Maybe we need to think more about behaviour outside of the narrow confines of a pension scheme and look more closely at the three influences on behaviour – namely the market, regulation and culture. Should our pension solutions be more integrated with challenges outside of the pension sphere?
Let me leave you with one more thought.
A smartphone today has more computing power than NASA had when they put a man on the moon and very soon, if not already, a top end toaster will have more computing power than NASA had back in 1969.
Rory Murphy
Chair, Ensign Retirement Plan.
This extract is adapted from a speech Rory delivered to a group of trustees and pension managers, hosted by Baker McKenzie at the House of Commons, on 21 September 2017.
Share this post