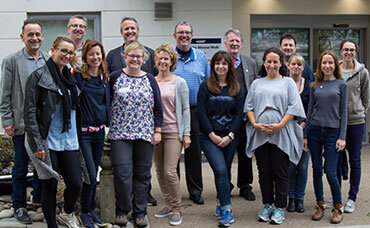 New champions for maritime pensions inspired by Nautilus…
The following article was published on the Nautilus International website on 20 June 2017:
Residents at the Nautilus Mariners' Park Estate in Wallasey have succeeded in creating new champions for maritime retirement provision when they hosted the Union's pension team.
Ensign Retirement Plan and the Merchant Navy Officers Pension Fund (MNOPF)'s marketing director Jemima FitzMorris described the team's volunteering visit during June to the Estate — which is run by the Nautilus Welfare Fund: 'It was a team building day for the pensions team, providing an insight into life at this fantastic retirement hub.'
To kick off the day, the pensions team received a 'truly insightful' dementia awareness induction and as a result, became 'Dementia Friends', said Ms FitzMorris. The specialist dementia service at the Park includes the employment of both a dementia support worker for people in the Care Home and in the community, and more recently a specialist part-time Admiral nurse.
The team then helped residents prepare the roof top garden for the Royal opening on Friday, of the new state-of-the-art Seafarers UK Centenary Wing, by building bird tables, decorating bird boxes and planting flower boxes. The afternoon tested their sporting prowess against the well-established resident golf and bowling teams, followed by a quiz, afternoon tea and a BBQ.
'Great friends were made — and for the Ensign Retirement Plan and MNOPF team — it was a great opportunity to witness first class retirement provision for the seafaring community,' commented Ms FitzMorris. 'The Ensign Retirement Plan was established to improve the retirement outcomes of those working in the maritime industry. It is up to us to champion and grow this scheme so future generations of seafarers can have the same positive retirement outcomes as those friends made at Mariners' Park.'
Link to article: https://nautilusint.org/en/what-we-say/nautilus-news/new-champions-for-maritime-pensions-inspired-by-nautilus-mariners%E2%80%99-park/
Share this post