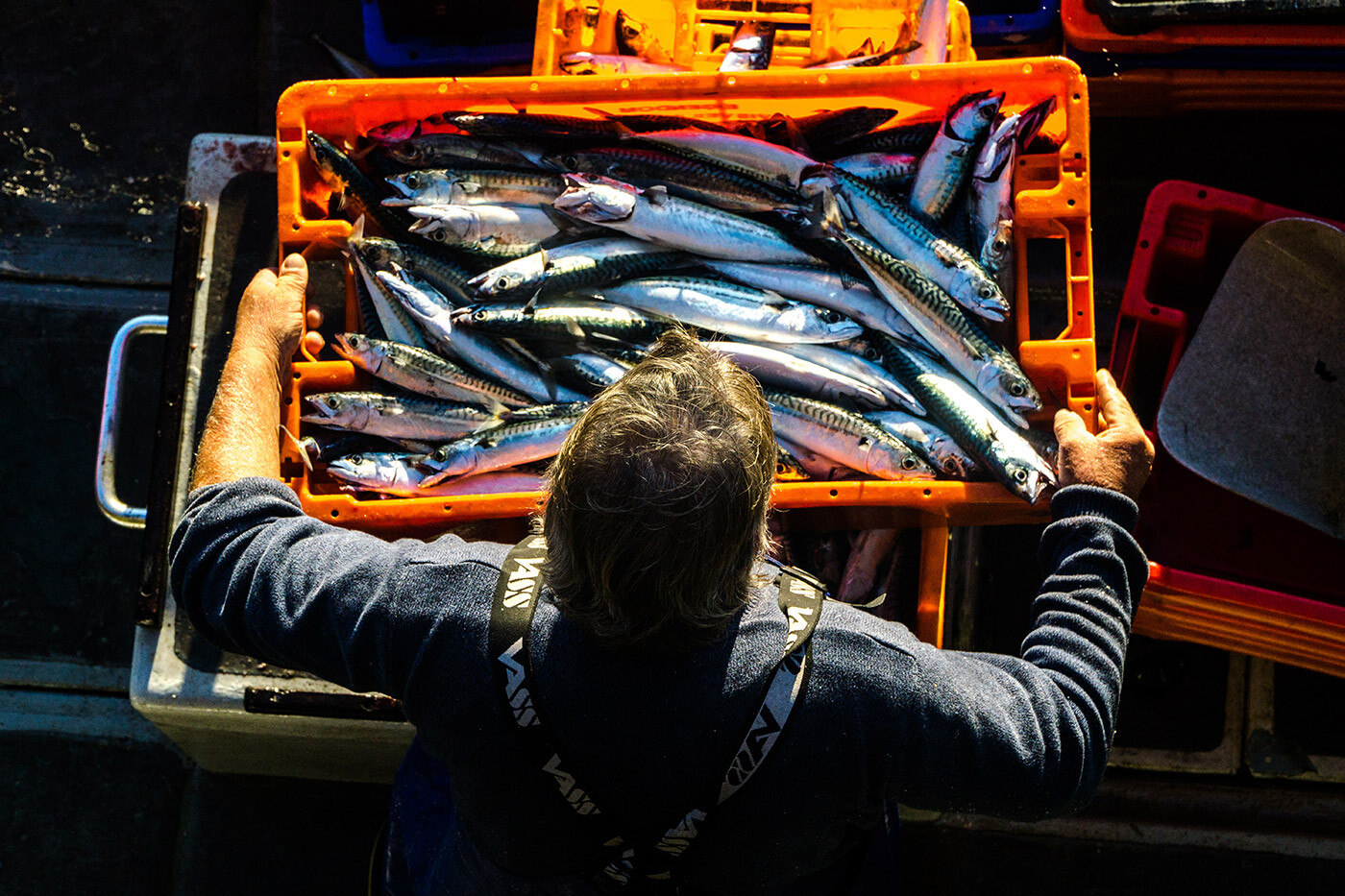 Supporting the maritime industry: Ensign aligns with seafarers' charity to highlight the value of saving
Ensign partnered with the Shipwrecked Mariners' Society in 2019 as headline supporter of its annual photography competition. Now in its seventh year, the competition aims to raise awareness of the Shipwrecked Mariners' Society and its work, with pictorial celebrations of Britain's proud maritime heritage.
Laurence Hartwell was declared the overall winner of 2019's competition with his entry 'Landing Mackerel', which captures a bird's eye view of a fisherman with his catch, taken in the port of Newlyn, Cornwall.
Andy Waring, Ensign CEO, outlines why he feels Ensign's support of the competition was important.
"The Shipwrecked Mariners' Society provides financial support to former seafarers and their dependants who are suffering financial hardship, whether due to accident, ill health, unemployment or in retirement after a life spent working at sea. The charity paid out total of over £1.4million in grants over the last year in 2,000 cases of need.
"In supporting the Shipwrecked Mariners' Society's competition this year, we hoped to reach more people in the maritime sector and raise awareness of the excellent work the charity does, as well as the virtues of an industry specific pension scheme like Ensign.
"As a not-for profit, maritime specific pension scheme, there are clear synergies between Ensign's aims and that of the Shipwrecked Mariners' Society. We know, as an industry and as employers, we must do more to help people understand the need to start saving early, and exactly how much they need to save for retirement. Of course, where individuals need additional support, charities such as the Shipwrecked Mariners' Society are there to step in. However, we can't rely on this completely – and nor should we."
Here, Andy provides his top five tips to make sure you are retirement ready:
Make sure your employer provides you with the best possible pension scheme
As the only dedicated, bespoke pension plan for the maritime industry, Ensign understands the challenges and unique needs of maritime employers and employees. A very attractive alternative to big, impersonal pension schemes, Ensign is a master trust governed by a Trustee Board elected from the maritime community, which makes sure its scheme is of the highest standard and can meet employee needs now, easing their future.Seafarers often have shorter than average careers and change job roles more frequently than others, which can make it difficult to keep track of savings. Ensign enables members to combine these pots and have all savings invested in one place, with no additional penalties or administration fees.
It's never too early to start saving for your retirement
Financial education should start as early as pre-school age to ensure new generations understand how crucial saving for their future is. Why don't you set a target retirement age and estimate how much you'll need to save each year to meet it? It will help you keep savings on track and give you a realistic view of the future. Earlier this year, Ensign found that many maritime HR professionals grossly underestimate the funds needed to provide a comfortable retirement. When asked, "how much do you need to provide a basic level, single life pension of £25,000 per annum at age 65?" answers ranged from £150,000 to £1 million and only one respondent landed on the correct answer: £460,000.Ensign's Life Path fund is a 'target date fund', which means your investments are automatically moved into lower risk investments as you get closer to retirement. The aim is to protect the value of your retirement pot built up over the years, and to match the funds with the way in which you want to take your benefits at, and in, retirement.
Increase your contributions into your pension pot where you can
Ensign provides a Defined Contribution pension plan, which means that a percentage of your salary is deferred to your pension automatically every month, with a minimum contribution of 4% which will then be matched or surpassed by the employer. We recommend negotiating your benefits package with your employer to get the best deal for you, whilst evaluating how much you can afford to pay into your pension each month. The greater the contribution from both yourself and your employer, the more you will have in your retirement pot.It's never too late to start contributing to a pension plan or to increase your contributions, which can make a big difference to the value of your pot when you come to retire. Keep track of your savings and if you have had a change in personal circumstances, which may impact your attitude to risk, adjust your pension contributions accordingly.
Create a monthly budget tracker to give you a clear view of your money and savings
Track your pension pots, so that you always know how much you are paying in, administrative  fees or early withdrawal penalties that may apply to your pension so you can calculate final savings accurately. As a not-for-profit scheme Ensign maximises returns for its members more than many other pensions, which could mean an additional £27,000 in the pot at retirement age. This is the equivalent of over two years of average pensions savings.  If you are eligible for UK tax relief, then you will also receive tax relief on any contributions you make to your pension up to the Annual Allowance of £40,000.
Take control of your other finances and make savings wherever you can
Make sure you are not paying more than you need to on your utilities, home and car insurance, mobile phone contract and other amenities. Using price comparison websites will provide you with a clear list of all the options available and let you choose the best one for you. This can also help you beat the prices your current providers are offering, presenting further options for saving cash and providing you transparency when it comes to your finances, enabling you to take full control of your future. And, as you review your utility costs, make sure you review your pension charges too. Ensign has a low 0.31% annual management charge, but some pension providers can charge as much as 0.75%, with additional transaction charges on top.Each year, Ensign sends its members a benefit statement which shows them their current and potential retirement pot. You can also manage your Ensign retirement pot online with TargetPlan; an easy way to monitor and manage your account online.
Ensign has been designed to enable its members to take advantage of the full range of retirement options, giving you more choice that ever on how and when, you take your benefits.
Find out more about how the Shipwrecked Mariners' Society is helping support maritime workers here: https://shipwreckedmariners.org.uk/
In addition to the overall competition winner, winners were also named in four categories:
Ship & Wrecks: Amanda Burgess – 'Fate of the Mersey Ferry', River Thames at Woolwich
People: John Alderson – 'Sunrise Through the Wave', Sunderland
Recreation: Alan Humphries – 'Brighton Sussex Display', Brighton
Coastal views: Mark Dobson – 'Wild Seas', Gwithian, Cornwall
To view the full gallery of this year's winning images, visit: https://shipwreckedmariners.org.uk/photography-competition-2019/
To find out more about Ensign and the member benefits we offer, visit:
https://www.ensignpensions.com/members/
Share this post